Cottage A (Room 1)
Nightly Rates $150 Plus Tax (2 Night Minimum)
121 Railroad St., SE, Abingdon, VA
Check In 3:00pm, Check Out 10:00am
The Barter Suite consists of the entire downstairs floor of Cottage A. The spacious two room suite consists of a bedroom with sitting area and a separate great room, dining area and kitchenette. The suite is up fitted with a gas fireplaces, flat screen TVs, as well as complimentary wireless internet. Suite also has an independent entrance from the exterior.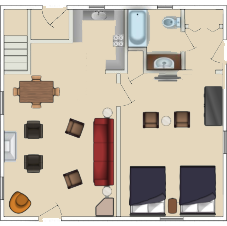 John Kanich
August 31, 2021.
Nice accomodations in a great location. Beware of trains.
Even though we were kind of an annoying guest (got in late, left things behind, and misplaced the extra key all in one visit!), Barbara was very kind and professional. The rooms are very comfortable and clean, and have everything you need. The location can't be beat. This was our second time staying there and we'll be back!
Heather Heiser
October 30, 2020.
We had a wonderful trip. The room was quaint and perfect with a great kitchenette and nice bathroom. A perfect amount of space. The location was great to walk to restaurants, the bike shop and right at the end of the bike trail. The property is lovely.
Martin Gerald
June 30, 2020.
A small group of my motorcyclist friends met me at Creeper's End for a long weekend of riding. The location is great, the space is perfect for a small gathering, privacy when needed, patio gathering space for kicking back in the evening and the price is right. The occasional train was noisy but otherwise, the location is blissful!
Kathryn Olive
June 7, 2020.
Management was very friendly and accommodating to work with. Perfect location within walking distance of town, restaurants, The Creeper Trail and The Barter Theater. The grounds are super cute. Very Williamsburgish! We enjoyed games on the lawn and sitting on the patio with snacks. The bedrooms were very comfortable and well appointed. Each room has a kitchenette that was well stocked with basics.
Cathy Slaughter
March 7, 2020.
AMAZING! I almost hesitate to tell people how wonderful this place is because I'm afraid there won't be a vacancy when we want to return to the area. The owner and manager are incredible to work with; I couldn't ask for nicer, more accommodating people. The rooms are exceptionally clean and well supplied; the location is centrally located and easily accessible. This will be our first choice of lodging in the area!!
Tymson
September 28, 2019.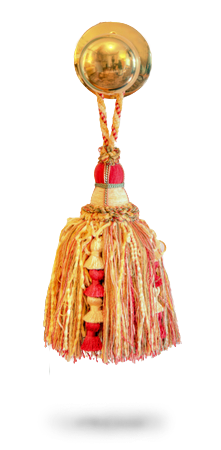 Frequently Asked Questions
Lots to do within walking distance
For those who enjoy the outdoors, our elegantly landscaped courtyard is the place to relax, learn to knit, or enjoy a glass of wine. Our cottages are just across the street from the Creeper Trail and just next door from the bike shop where guests can rent their bikes and organize their trip down the trail. Browse the quaint yarn shop, also next door, to learn how to knit and buy knitting supplies. Just a short walk away are the Barter Theatre, farmers' market, microbrewery and historic downtown Abingdon.
For more things to do visit our Area Attractions page.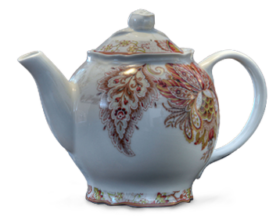 Discover More Rooms & Suites
CREEPER'S END CONSISTS OF TWO COTTAGES; COTTAGE A & B